Uconnect Questions and Answers
So you purchased a new vehicle equipped with the innovative Uconnect — but now what? Is your phone paired with the system? Are you ready for Voice Texting? Keep reading for some commonly-asked questions…and answers.
Voice Texting:
Setting up a phone for Voice Texting
---
---
Not able to send a text message?
First, check to see if the Messaging button (on the Uconnect® system) is illuminated. It's possible that if you are in an area where the signal is low or not running on the 3G network, the feature will not function properly.
Entertainment:
Voice Commands not working on digital music player?
In order for the voice command feature to work properly, the portable music player (iPod®, etc) must be connected via USB. If it is being played via Bluetooth, Aux Input or SD card slot, then the voice command feature will not be available.
Vehicle Health Report:
Where do I go to see my Vehicle Health Report?
The reports are sent to the email address used when signing up for the service. To manually check on the health of your vehicle, log into the owner center, click on 'Maintain & Care' tab and then select 'Vehicle Health Report' tab.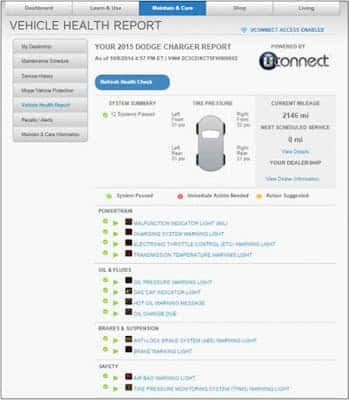 For more help, visit driveconnect.com. For one-on-one assistance, or to purchase a new Chrysler, Dodge, Jeep or Ram Truck, visit your local dealer at River Front Chrysler Jeep Dodge Ram in North Aurora.